Pupil Voice and Leadership
The Pupil Council
At Mercia School, we believe that all pupils can contribute to school and community life in a meaningful way. All teachers are steadfast in their efforts to develop good, just pupils who understand their civic duty. It is our ambition that after Sixth Form and university study, pupils will return to our community and contribute positively. For them to achieve this, they need to develop strong leadership capabilities.
The voice of our pupils is vital to the ongoing success of the school. There is a Pupil Council that leads our whole-school body in a wide range of areas. The councillors, two pupils from each year group, support with school assemblies and Family Dining on a regular basis. In addition, the councillors meet every half-term for a working lunch and discuss a wide range of matters such as:
School charity work
Family lunch
Electives
Pupil mental and physical wellbeing
Sports clubs
Library use
The above list is not exhaustive and any matter a councillor wishes to raise is listened to carefully and taken seriously.
House Captains
Mercia School's house system is developing strongly. The four houses compete for two prizes throughout the academic year:
The House Book – awarded to the house with the most house points throughout the academic year
The House Cup – awarded to the house that is victorious on sports day
From 2021-22, the school will appoint 2 House Captains to help drive competition and participation. House Captains will be picked from Year 10, following a rigorous application and interview process.
Prefects
To further pupil leadership capacity, in September 2021-22, the school will appoint a group of prefects from Year 9-10. These pupils will support school events such as showcases, sports day and being tour guides for visitors.
Meeting Leaders
To further develop pupil leadership capabilities, it is essential to introduce them to our societal leaders on a regular basis. We look forward to welcoming leaders from all sectors as the school continues to grow and society reopens.
Paul Blomfield MP, Sheffield Central (February 2020)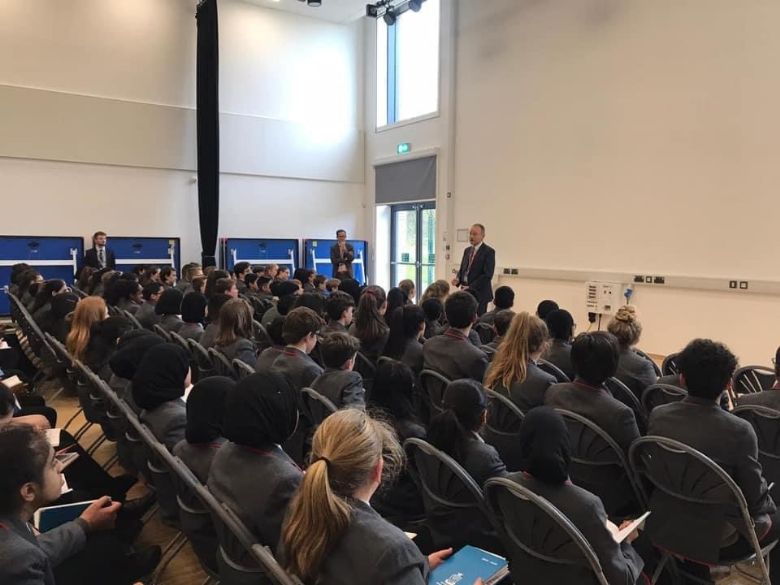 Pupil Councillors
Aasiya E, Y8
My name is Aasiya. I am pleased to be on the pupil council because it means I have a good chance to help many of you express your opinions as well as listen to your problems, suggestions, and positive ideas. I am patient, generous and gentle. And also have a warm personality so don't hesitate to approach me.
Amaar K, Y8
Firstly, I would like to thank everyone for picking me as pupil councillor. I am very honoured to be part of the team and show off my Mercia values. I believe a Mercia councillor should have good listening and leadership skills, and I show all of these values as I listen to everyone's problems / ideas and do the best I can for them. I love representing my school as in my opinion it's the best in the country. I would also like to thank Mercia school staff, especially Mr Ridler for giving me this opportunity, which has allowed me to boost my confidence and making me a proud asset to the school.
Julia V, Y9
To start off with, I would like to say I am so thankful for being elected to be on the pupil council. I will use this opportunity to grow as an individual and make positive changes within the school community. I look forward to working closely with the other school councillors and prefects as well as teachers to do this. I make sure to be a responsible and approachable person who will take any ideas or issues into account, no matter how small, and bring them up during meetings. I look forward to representing Year 9 on the pupil council!
Kamil W, Y9
I would like to thank all the people who voted for me to be the Year 9 representative for the school council. To repay that, I will make sure to act upon the interests of people in this year group and try to make meaningful changes for the school. I believe that letting 180 people have a say on what they want for the school is a lot better than 1 so I will make sure to asks as many people what changes they would like to see or concerns that they have. These will be in an attempt to balance everybody's views.
Sasha P, Y10
I am very grateful to be elected to pupil councillor, and to have the opportunity to solve or communicate ideas that pupils might have. I am committed and respectful, and have good relationships with teachers and pupils. I applied for this position because I want to make sure that everyone feels heard and included in decisions; I strive for inclusivity and will always try to be a figure that people feel comfortable talking to and can trust that I will listen to any problems or suggestions.
Xiaorui W, Y10
To start with, I believe that Mercia is an exceptional school, and that is why it needs school councillors to make it better. It is true Mercia needs school councillors to be the student voice and to improve school life for the everyday student, so therefore I am honoured to become one of the new school councillors this year. As a school councillor, I wish to help in the organising of events as well as suggesting new ideas that may increase the wellbeing of pupils. Most importantly, as a councillor, I need to listen to my peers and take their opinions to help improve Mercia for the future. I believe this to be a great opportunity to both show my skills as a representative but also develop them too.
Safa R, Y11
As a year 11 councillor, I am extremely grateful for the opportunity to be able to represent the school as it gives me the opportunity to show my care for the values of the school. I feel even more fortunate to have the opportunity to represent the Muslim and south Asian communities within the school and will ensue all voices are heard. I am passionate about my education and aim to establish an environment which allows all pupils to feel the same.
Nadir A, Y11
My name is Nadir and I am grateful for the opportunity and privilege of being Y11 school councillor. I am looking forward to showcasing my exceptional qualities of leadership, determination and problem solving. This year my aims are to make changes in support for me and my peers and make this year as best as it possible can be whilst simultaneously bringing the Mercia community through various events in order to make a difference across the world. Finally, I would like to show my gratitude to everyone who has shown me support and also to the senior staff for believing in me and allowing me to take this position. My work has already begun and I'm looking forward to what the council has in store.